4047 introduction
Électronique / Electronic
4047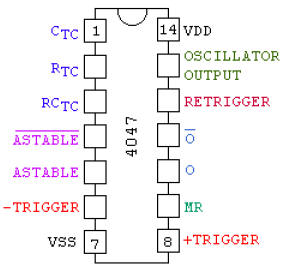 Le mode astable est activé par un niveau haut sur l'entrée ASTABLE.

La période du signal carré sur les sorties O et Ō (complémentaire de O) est fixée par la valeur des composants périphériques.

Cette période sera divisée par 2 sur la sortie OSCILLATOR OUTPUT.

En mode monostable, le déclenchement sur front montant (positif) est réalisé en présentant un front positif (leading-edge pulse) sur +TRIGGER et un niveau bas sur -TRIGGER.

Le déclenchement sur front descendant (négatif) est réalisé en présentant un front descendant (trailing-edge pulse) sur -TRIGGER et un niveau haut sur -TRIGGER.

La durée des impulsions d'entrée est sans effet sur le signal de sortie.

En logique positive uniquement, le monostable peut être redéclenché en présentant une impulsion commune sur les entrées RETRIGGER et +TRIGGER.

Le tableau ci-dessous résume quelques unes des possibilités offertes par le 4047:
The astable mode is activated by a high level on the ASTABLE input.

The period of the square signal on the outputs O and Ō (complementary to O) is fixed by the value of the peripheral components.

This period will be divided by 2 on the OSCILLATOR OUTPUT output.

In monostable mode, rising (positive) edge triggering is achieved by presenting a leading-edge pulse on + TRIGGER and a low level on -TRIGGER.

Downstream (negative) edge triggering is achieved by presenting a trailing-edge pulse on -TRIGGER and a high level on -TRIGGER.

The duration of the input pulses has no effect on the output signal.

In positive logic only, the monostable can be retriggered by presenting a common pulse on the RETRIGGER and + TRIGGER inputs.

The table below summarizes some of the possibilities offered by the 4047: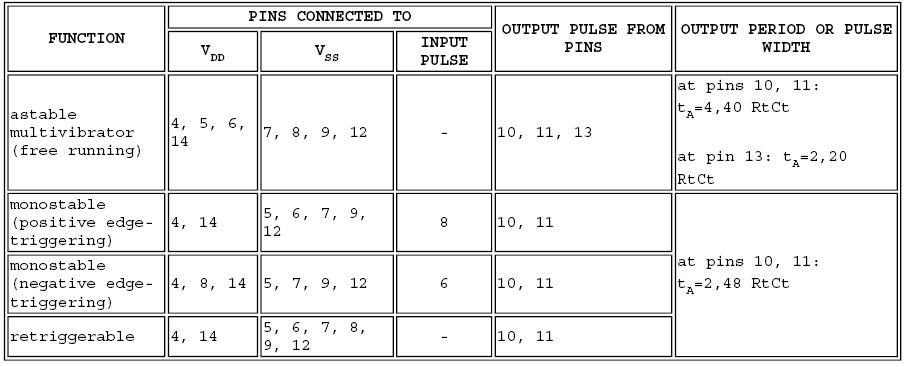 Dans tous les cas, la résistance sera connectée entre les broches 2 et 3, et le condensateur entre les broches 1 et 3.

Notez que le modèle 4528 offre deux monostables indépendants, ce qui ouvre d'intéressantes possibilités...

In all cases, the resistor will be connected between pins 2 and 3, and the capacitor between pins 1 and 3.

Note that the 4528 model offers two independent monostables, which opens up exciting possibilities ...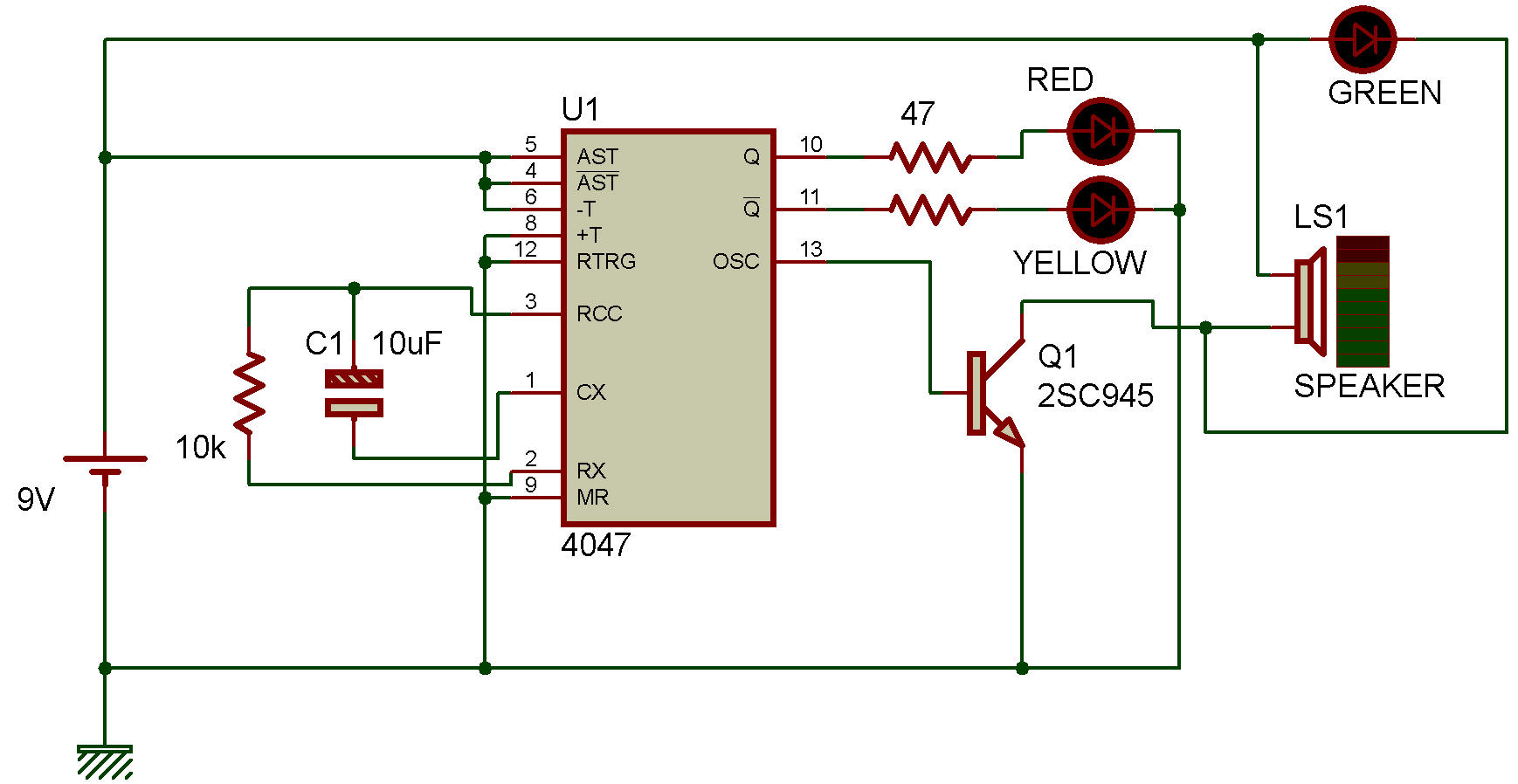 | | |
| --- | --- |
| OSC | O et/and Ō |
| | |