Proteus Power Components terminals / Mode terminal
Électronique / Electronic
When working with large circuits, using direct connections between different components of the circuit usually results in many wire cluttering. This may result in connection errors and makes it difficult to understand, debug or modify the design. The solution to this problem is to use terminals for connection.
We can name the labels in any way we liked but sensible names make the schematic more legible and easy to understand.

Essentially what we are doing by labeling a terminal is making a connection to another terminal, without placing a physical wire between the two objects.

To change the terminal name, double click on the terminal point and enter an appropriate name in the "Edit Terminal Label Window"
Lorsque vous travaillez avec des circuits de grande taille, l'utilisation de connexions directes entre différents composants du circuit engendre généralement de nombreux encombrements de fils.
Cela peut entraîner des erreurs de connexion et compliquer la compréhension, le débogage ou la modification de la conception.
La solution à ce problème consiste à utiliser des terminaux pour la connexion. Nous pouvons nommer les étiquettes comme bon nous semble, mais des noms judicieux rendent le schéma plus lisible et facile à comprendre.
Essentiellement, en étiquetant un terminal, nous établissons une connexion avec un autre terminal, sans placer de fil physique entre les deux objets.
Pour changer le nom du terminal, double-cliquez sur le point du terminal et entrez un nom approprié dans la "fenêtre d'édition du terminal".
Vcc and Ground / Vcc et Ground
1° Select Terminal Mode / Sélectionner le mode terminal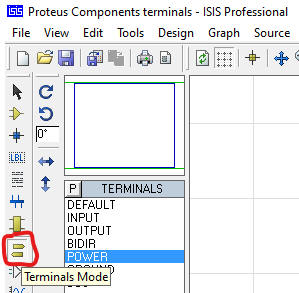 2° Click on Power / Cliquer sur Power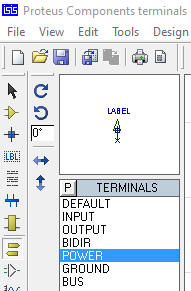 3° Place it in design / Placez-le dans le diagramme

4° Click on Power symbol and chose Vcc / Cliquer sur le symbole Power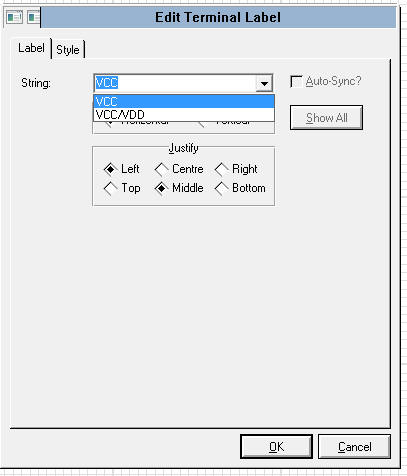 5° Place DC vlometer / Placer un vlometre CC
1°
2°
3°
connect Vcc / connectez Vcc
6° Place Ground / Placer Ground
Multi power / Multiple voltage
1° Select power
2°
3° Edit Terminal Label
4° Write the desired voltage
Écrire la tension désirée
5°
Connect Voltmeter and Ground
Connecter le voltmètre Ground
6° Various voltages / Tension diverses
Configure Label / Configurer le libellé
1° Edit Terminal Label
2° Select Style / Sélectionner Style
3°
Deselect the boxes to modify
Désélectionner les cases à modifier
Repeat for others / Répéter pour les autres
Output, Input Terminal
(Audio, Voltage, etc)
1°
Make a diagram
Faire un shémas
2°
Select Output and place it
Sélectionnez Output et placez-le
3° Edit Terminal Label
4°
Make a diagram
Faire un shémas
5°
Select Input and place it
Sélectionnez Input et placez-le
6°
Edit Terminal Label and select +3V
Edit Terminal Label et Sélectionnez +3V
7°
Edit Terminal Label if you want and Run
Edit Terminal Label si vous le voulez et Run