By the wind Dice Game
Au gré du vent jeu de dés
Jeux
Dice Game
1xD8 + Pawns / des Pions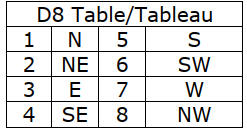 The object of the game is to collect 500 points.

The first player to accumulate 500 points wins. (Players can decide to change the number of points to obtain to win)

Each player takes a game card. And places his pawn in the center.

Each player takes turns.

You can only move one square at a time.

The movement of the pawn is in the direction obtained by rolling the wind direction die.

If the player cannot move his pawn in the direction of the wind obtained, he passes his turn.

If a player lands on a space with points, he adds these points to his total score.
Le but du jeu est de ramasser 500 points.

Le premier joueur qui accumule 500 points gagne. (Les joueurs peuvent décider de changer le nombre de point à obtenir pour gagner)

Chaque joueur prend une carte de jeu. Et place au centre son pion.

Chaque joueur joue à tour de rôle.

On ne peut que se déplacer d'une case à la fois.

Le Déplacement du pion se fait dans la direction obtenu en lancent le dé de direction du vent.

Si le joueur ne peut déplacer son pion dans la direction du vent obtenu, il passe son tour.

Si un joueur arrive sur une case avec des points, il ajoute ces points à son pointage total.
Quick Version With a D4


You can use a D4 die for the number of squares you can move forward.

We throw the D8 and the D4 together.

Ex.
The D8 gives SW and the D4 gives 3.
We advance 3 squares towards the SW.
Version Rapide Avec un D4


On peut utiliser un dé D4 pour le nombre de cases qu'on peut avancer.

On lance le D8 et le D4 ensemble.

Ex.
Le D8 donne SW et le D4 donne 3.
On avance de 3 cases vers le SW.