Yahtzee Dice Game
Jeux
Dice Game
Yahtzee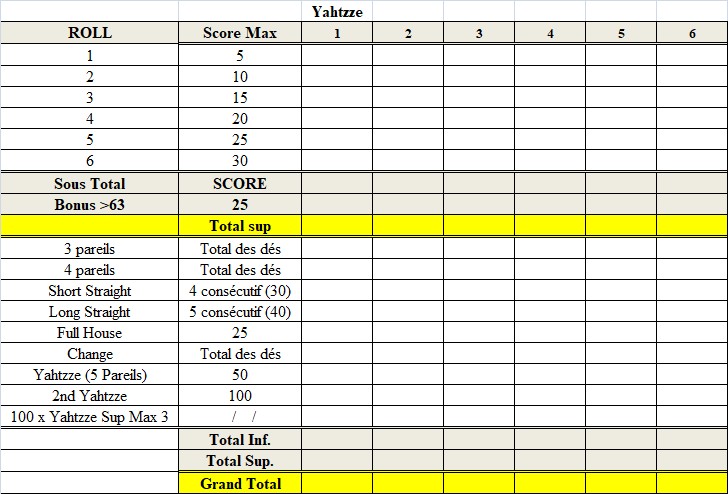 Power Yahtzee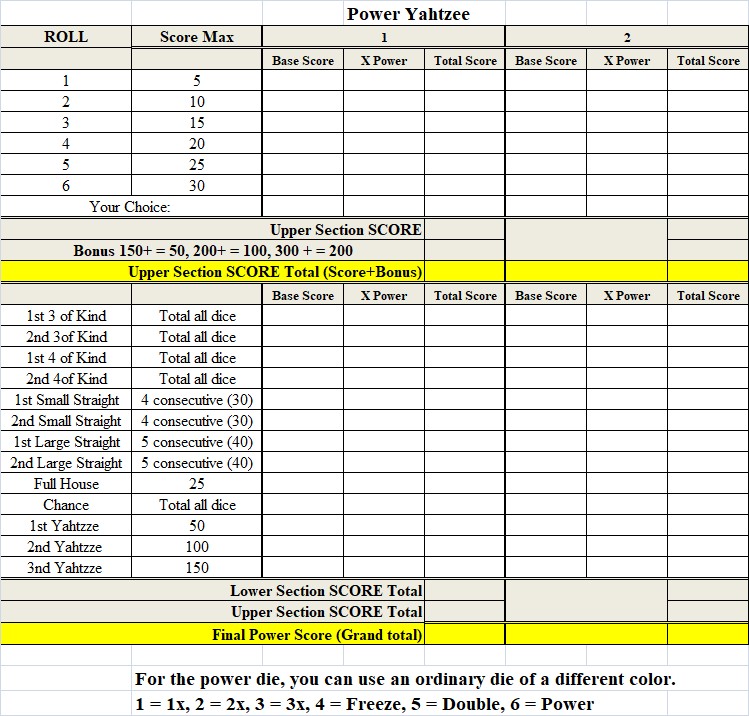 "Freeze" stops you in your tracks! Whenever Freeze appears, your turn
immediately ends, even if you've only rolled once. Let's say you roll the
Freeze symbol along with two 1's, one 3, one 5 and one 6. Since you
must score this roll, you elect to do so the Ones slot and enter a "2" here.
The Power for "Freeze" is always "1." So you write "1" in its Power column and earn
a total score of only "2" (2x1=2 points). Hopefully, Freeze won't put too much of a
chill in your game!

When you roll the "Double" side on the Power die you must score your
roll in any two slots and multiply each score by a Power of "2." For
example, after three rolls you end up with four 4's, one 6, and Double on
the Power die. You must score this roll twice. In this case, you could
score four 4's under "Fours" (worth 16 points) and also a "Four-of-a-Kind" (worth 22
points). Each is multiplied by a Power of "2." So the Fours will score you 32 points
while the Four of a Kind earns you 44 points. Not bad! Later in the game, your roll
may not qualify to score in two empty slots (or, you may choose not to). If so, you
must eliminate an unscored slot by placing an "X" in the Base Score column and a
"0" in its Total Score column. (For instance, you could decide to "X" out one of your
Yahtzee slots or one of your unscored Straights).

Remember, in Power Yahtzee, the first player who fills in his or her score sheet
causes the game to end. Every "Double" on the Power die advances you in this race.

"Power" is a great roll, if you keep it. Not only does it assure a Power of
"3" but it permits you to make a fourth roll with your other dice if you
wish. Say, after three rolls, you've got a 3, four 6's and have kept "Power."
You can reroll the "3" one more time. If you roll another six you've
earned a YAHTZEE! (and will triple your score). It is usually wise to hold onto
"Power" to earn a fourth roll. You lose that opportunity if you re-roll the Power die,
unless you roll "Power" again on your third roll.
Triple Yahtzze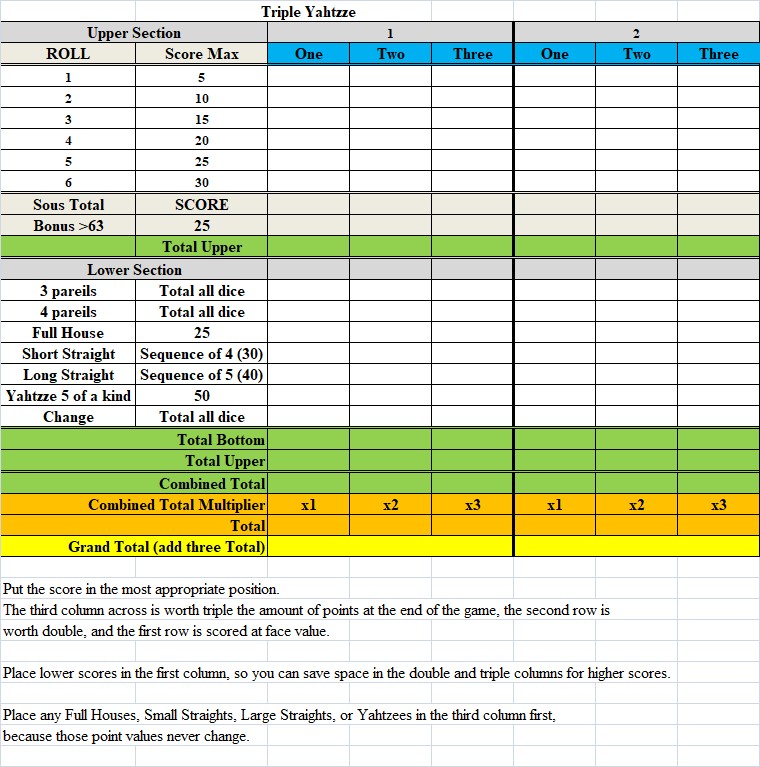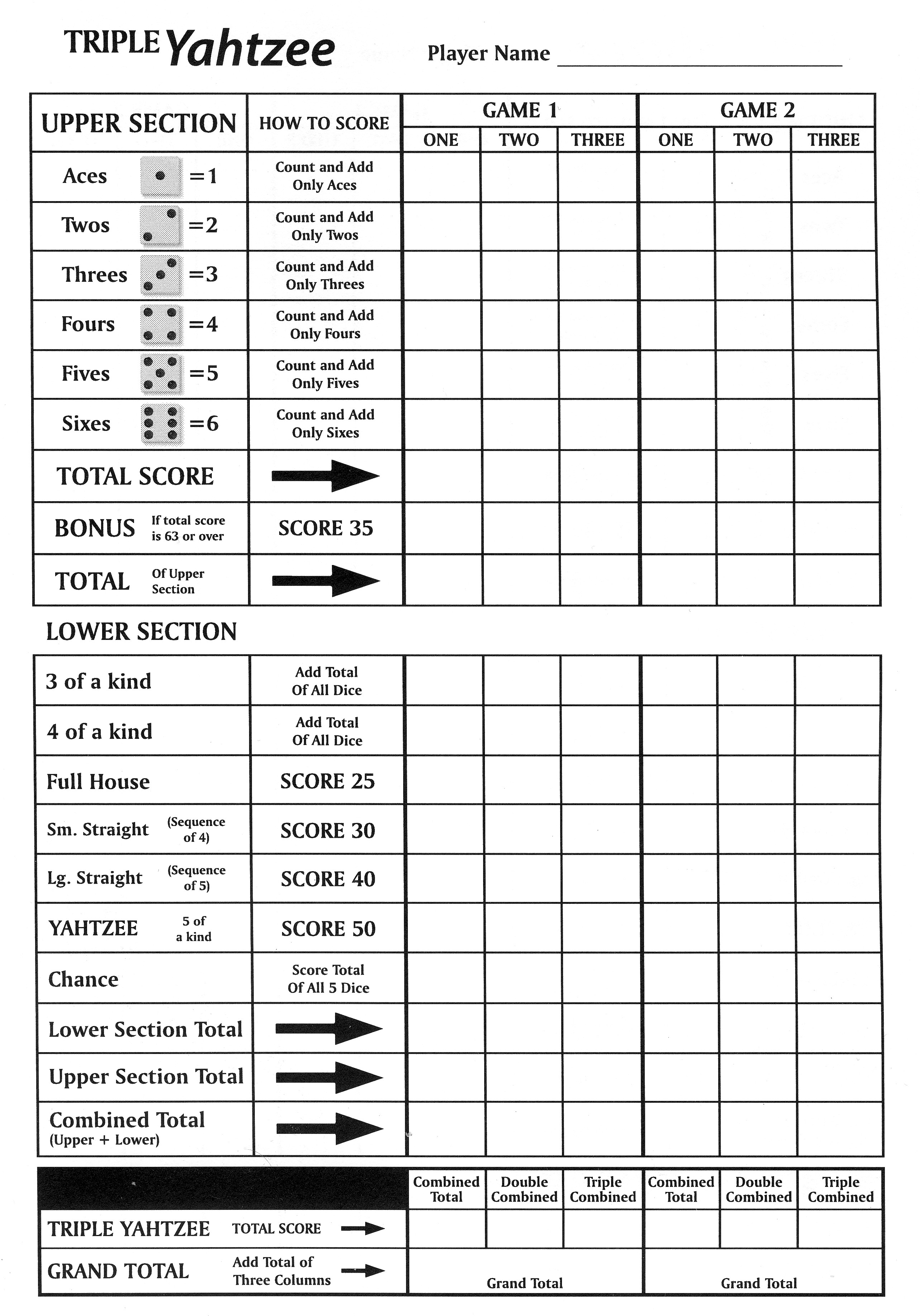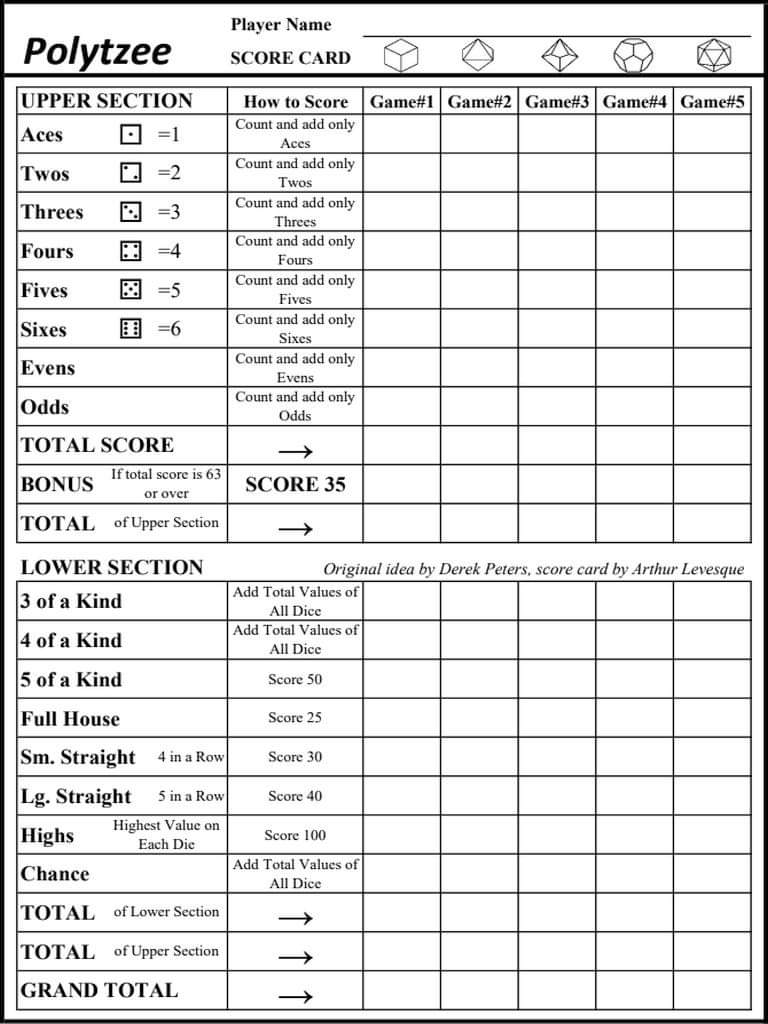 Yahtzee Small Straight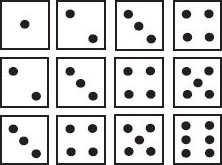 Yahtzee Large Straight

Yahtzee Full House