Multiple-function IC project LM324
Electronic
After building this project, you would agree that the title of this section is no exaggeration. You have already seen that the op amplifier IC can do many things. Yet...
... U1:A and U1:B work as an oscillator generating an AC signal. This can generate an AC signal at a frequency of about 550 Hz.
U1:C is a half-wave rectifier and U1:D is an inverting amplifier, to compose a full-wave rectifier. Thus we are using one IC for three purpose.
When you finish wiring the project, turn power ON. Figure 1 shows the waveforms at points 1, 2 and 3.
Press S1. You'll hear a sound of waveform 1 (about 550Hz).
Now press S2, and you'll hear a higher-pitched sound of waveform 3 —the output of the fullwave rectifier.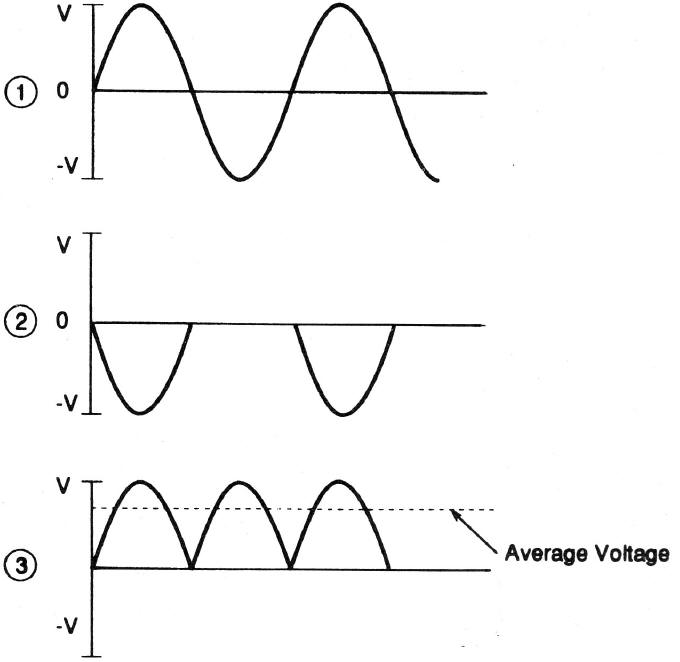 Bill Of Materials For Multiple-function IC project
19 Resistors
Quantity:
References
Value
1
R1
1M
1
R2
6K8
1
R3
470
1
R4
100k
1
R5
470k
8
R6-R8, R14-R18
10k
2
R9, R10
4K7
1
R11
2K2
3
R12, R13, R19
22k
2 Capacitors
Quantity:
References
Value
2
C1, C2
0.01uF
1 Integrated Circuits
Quantity:
References
Value
1
U1
LM324
2 Diodes
Quantity:
References
Value
2
D1, D2
1N4148
6 Miscellaneous
Quantity:
References
Value
2
+, -
4.5V
1
J1
JACK NC
1
ON
OFF
2
S1, S2
BUTTON