Recherche personnalisť / personalised search
Electronic Raindrops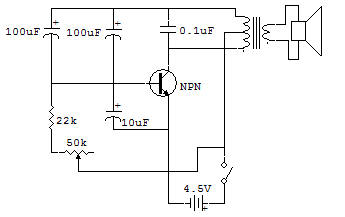 This circuit produces a sound like raindrops falling. By adjusting the Control Knob you can change it from a drizzle to a downpour.
As you can see on the schematic this Project uses two 100 uF capacitors in parallel. Their charging and discharging rates are controlled by the 22K resistor and 50K Control.
When put power ON, you'll hear the "falling raindrops" sound from the Speaker. Moving the Control Knob will cause the sound to "speed up" or "slow down".
Try substituting different values of capacitors and resistors in this Project, just like you've done in previous circuits in Oscillator section. Be sure to keep notes about what you discover.